Deze staat nu een paar dagen in huis en ik kan er niet vanaf blijven! Het is echt een geweldig item en zit heerlijk. Zeker een aanrader.
Snelle verzending en een stoel van goede kwaliteit. Hij gaat erg lang mee.
Zeer fijne stoel. Ook geeft het een luxe sfeer aan de woonkamer. Ik ben blij!
Echt een prachtige stoel. Je oog valt er meteen op als je binnen loopt. Deze blijft hier zeker nog lang staan. De kwaliteit is namelijk ook erg goed. Ik ben zeer tevreden.
Fijn dat er foto's bij staan bij mensen thuis. Heb 'm gekocht en ben er erg blijm ee
Super fijne stoel en lekker breed.
Heel nice. super blij met deze stoel in huis
Erg mooi om op kantoor te zetten!
Nice! Black is my favourite colour especially in my house. It's calm, simple but so classy.
De breedte is perfect. Je kunt lekker zitten en het neemt een normale ruimte in beslag in de kamer waar je m in zet. Super blij mee.
Zeker een luxe uitstraling en zit ook erg lekker
Erg mooie stoel. Ik heb 'm zelf in mijn studeerkamer staan, maar zou ook makkelijk in de woonkamer kunnen.
This is such a great chair. I have two now so that my house is more the same style.
Geweldig mooie uitstraling en wat een goede kwaliteit. Ik ben zeer tevreden.
De poten en de stoel zelf hebben zo'n unieke vorm. Uniek, omdat ze gebogen zijn. Ik hou ervan!
The colour is amazing. It's like matt but also with a shiny touch. I love it!
Fijn dat ik zo goed geholpen werd. Complimenten! Alles wat je wilt weten word beantwoord en dat is echt een pluspunt.
De verzending ging ongelofelijk snel en de stoel kwam in goede staat aan bij mij in huis. Erg blij mee! Ik zou de stoel en zeker deze website aanraden!
Zwart is toch wel de beste kleur om in huis te hebben staan. Het geeft een hele luxe uitstraling en zeker ook doordat de stoel naar achter geleund is. Erg mooi.
Blij met deze stoel! Echt een geweldig ding voor in de woonkamer. Zeer goede kwaliteit en snel binnen gekregen. Super blij mee.
This chair is so great. I wasn't sure about the size of the chair but it fits perfectly. I'm very happy and would definitely order again on this website.
Echt een heerlijke stoel. Je kunt er lekker in wegzakken en het ziet er ook nog luxe uit. Erg blij mee.
Dit meubel springt er echt uit! Ik heb 'm zelf in de woonkamer staan en iedereen vraagt waar ik 'm vandaan heb. Nou, hier! Geweldig.
Onwijs blij met deze aankoop. Een meubel koop ik niet zo snel, maar deze kon ik echt niet laten staan. Wat een prachtig ding!
Zit heerlijk, ziet er geweldig uit en de verzending ging razendsnel.
Prachtige stoel en wat een goede service. Ik werd erg goed geholpen en de informatie die ik kreeg was duidelijk. Bedankt! Nu lekker genieten van de heerlijke stoel
Leuk om de stoel in een hoek van de kamer te zetten. Hij valt alsnog op omdat het een aparte stijl heeft.
Hele luxe uitstraling, waardoor je woonkamer en meteen goed uitziet. Iedereens oog valt erop.
Super moderne uitstraling en zit ook nog eens heel lekker!
Prachtig meubel. Onwijs mooie kleur en het is een gaaf design. Erg blij mee.
Hele mooie stoel! Zeker een Eyecather in je woonkamer.
Barcelona Chair
Pavilion Chair Premium Black
Information
Barcelona Chair Premium
Are you familiar with the original Barcelona Chair? And are you looking for a 1 on 1 same chair as the original? The Premium Edition is especially for that. We take pleasure in explaining below how you can recognize a quality Barcelona Chair.
The dimensions of our premium Barcelona Chair are a 1 on 1 match with the original. Important: The cushion at the back is the same height as the frame and the thickness of the frame is exactly 12 mm.
Italy is well-known for its superior leather-working. The paint penetrates up to approx. 1mm into the leather. As a result, we can speak of a thoroughly dyed leather. The leather is dried and then machine-kneaded, also called "walking." This makes the leather supple. In the premium m...
Specifications
| | |
| --- | --- |
| Material frame | Stainless steel with a steel core |
| Material cushions | Analine leather |
| Material straps | Artificial leather |
| Thickness steel | 10 mm |
| Dimensions (WxDxH) | 77 x 81 x 81 cm |
Why order with us?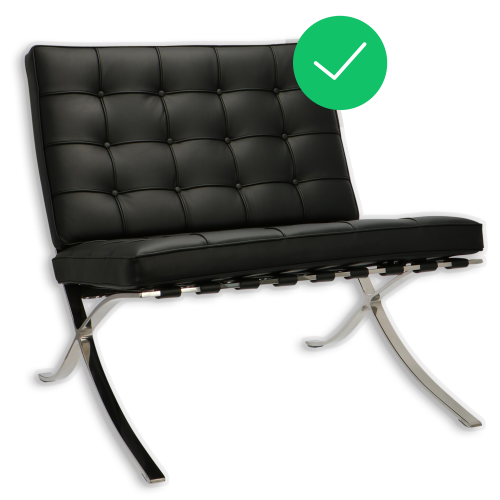 Made out of the highest quality cow leather and aniline leather (Italian)

Extra solid frame, carry weight up to 130 KG

Custom made foam for extra comfort and quality

Solid frame, no assembly needed

Suitable for commercial purposes or offices (meeting rooms, waiting rooms, public places or shops)

2 to 5 year full warranty (regular or premium model)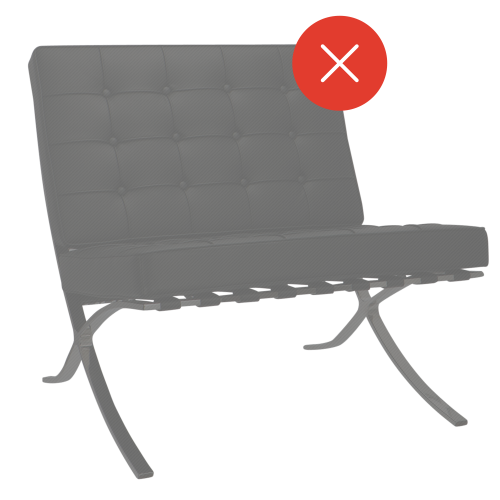 Made out of cheap leather

Hollow frame, low carrying capacity

Cardboard straps, rips when using

Complex assembly, unstable frame because it needs to be assembled

1 year limited warranty