Super fijne stoel! Iedereen thuis is er fan van. Hij zit onwijs lekker en straalt luxe uit. Visite, kom maar langs!
Great chair. We have this one at the office and I think I'll buy it for myself.
Onwijs snelle verzending. Dat maak ik niet vaak mee. Daarnaast een erg fijne stoel en het uiterlijk is prachtig.
Echt een fijne stoel. Top kwaliteit en is helemaal van nu.
Alle informatie staat duidelijk aangegeven en alles gebeurt precies zoals wordt verteld. Via de chat kon ik mijn vragen kwijt en deze werden vriendelijk beantwoord. Mijn complimenten. Daarnaast is de stoel een mooi item en ben ik zeer tevreden.
Onwijs blij hiermee. Service is vriendelijk en helpt je bij al je vragen. Daarna ging de verzending snel, want voor ik het wist stond de stoel al in huis.
Prachtige stoel voor in de woonkamer. Mijn kinderen vinden 'm ook geweldig. Ik ben er nog heel voorzichtig mee...
De kleur is erg mooi, wel uitkijken dat je er niks op knoeit.
Echt heel erg blij met deze stoel. De service is klantvriendelijk en de levering ging erg snel.
Wij vechten thuis echt om deze stoel. Misschien een tweede kopen?
Wauw. Ongelofelijk blij met deze stoel! Ik heb 'm in de woonkamer gezet en ik kijk er steeds naar als ik langs loop. Het zit heerlijk, dus elke avond is dat mijn plek, de rest mag lekker een klein stoeltje pakken ;).
De verzending hier is geweldig. Zo snel heb ik het nog nooit meegemaakt. Erg tevreden, bedankt.
Heel mooi om ook het voetensteuntje erbij te kopen. Staat geweldig.
De stoel is lekker breed, dat is erg fijn. Het materiaal is zeker goed en het ziet er prachtig uit natuurlijk.
This is the most beautiful chair I've ever had. The back is great because you can lay down after a busy day and just relax in a really fancy chair.
De combinatie met ijzeren poten vind ik erg goed. Hierdoor kan ik de stoel combineren met een ijzeren tafel bij mij thuis.
Zo fijn dat er foto's bij staan hoe de stoel eruit ziet bij mensen thuis. Eerst dacht ik namelijk dat de stoel te groot zou zijn voor bij mij thuis, maar nu ik op de foto's kijk zou het fantastisch staan. Pluspunt!
Prachtige stoel om in de woonkamer te hebben staan. Luxe en chill om in te zitten. Geweldige combi
Geweldig om twee van deze stoelen naast elkaar te zetten.
Erg mooie stoel voor in de woonkamer. Zeker van goede kwaliteit!
Zo fijn dat je zo snel geholpen wordt hier! Ik had een paar vragen en deze werden in een mum van tijd beantwoord. Top service!
Dit is een prachtig meubel. Eigenlijk moet iedereen zoiets in huis hebben vind ik. Geweldig!
Hoi! Ik heb deze stoel vorige week besteld en ben er zo blij mee! Eerst twijfelde ik over de kleur, maar het staat geweldig in huis. Ik heb er al meerdere complimenten over gehad, dus mijn week kan niet meer stuk ;)
Wat een luxe uitstraling. Wit vind ik zelf erg mooi en past daarom goed bij mijn andere meubels. Ook bij zwart staat de stoel erg goed.
What I didn't expect was the delivery that came so early. When I opened it I was amazed. The chair is beautiful and I already put it in my living room.
Barcelona Chair
Pavilion Chair Premium White
Information
Barcelona Chair Premium
Are you familiar with the original Barcelona Chair? And are you looking for a 1 on 1 same chair as the original? The Premium Edition is especially for that. We take pleasure in explaining below how you can recognize a quality Barcelona Chair.
The dimensions of our premium Barcelona Chair are a 1 on 1 match with the original. Important: The cushion at the back is the same height as the frame and the thickness of the frame is exactly 12 mm.
Italy is well-known for its superior leather-working. The paint penetrates up to approx. 1mm into the leather. As a result, we can speak of a thoroughly dyed leather. The leather is dried and then machine-kneaded, also called "walking." This makes the leather supple. In the premium m...
Specifications
| | |
| --- | --- |
| Material frame | Stainless steel with a steel core |
| Material cushions | Microfiber leather |
| Material straps | Artificial leather |
| Thickness steel | 10 mm |
| Dimensions (WxDxH) | 77 x 81 x 81 cm |
Why order with us?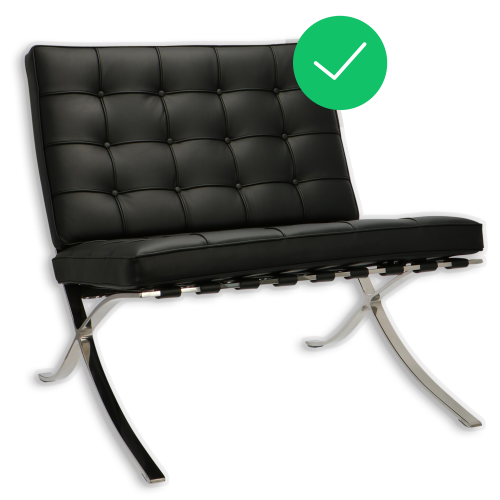 Made out of the highest quality cow leather and aniline leather (Italian)

Extra solid frame, carry weight up to 130 KG

Custom made foam for extra comfort and quality

Solid frame, no assembly needed

Suitable for commercial purposes or offices (meeting rooms, waiting rooms, public places or shops)

2 to 5 year full warranty (regular or premium model)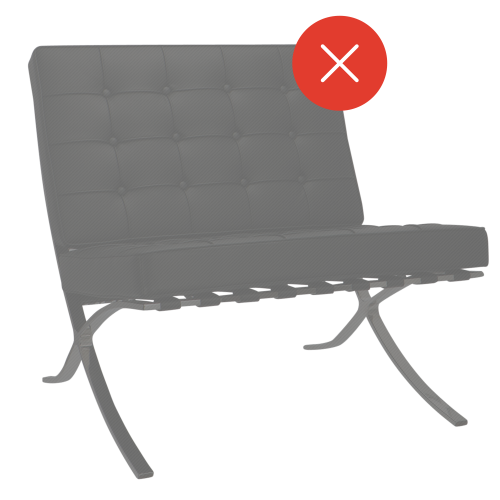 Made out of cheap leather

Hollow frame, low carrying capacity

Cardboard straps, rips when using

Complex assembly, unstable frame because it needs to be assembled

1 year limited warranty