Prachtige stoelen, zitten echt goed, correcte levering, veilig verpakt.
Echt een aanrader! Heerlijke stoel!
Leuk om te combineren met andere kleuren!
Echt onwijs leuk in huis. Staat goed bij een houten tafel vanwege de poten.
Me and my sister both bought these chairs and they're great. There even better than on the picture
I just moved here and I'm decorating my room. Now, I have a small room so its hard to decide what I can fit in my room and still make it look nice. These chairs are amazing. I have two and I'm very happy. It's big enough to use and small enough to fit in any room. When I buy a bigger house I'll buy 1000 of these ;)
Leuke stoelen aan de eettafel of naast de kast
Wit is altijd goed. Besteld om de kwaliteit te zien, die is top. Nu ga ik ook andere kleuren bestellen!
Deze stoel is top. Lekker simpel, goede kwaliteit en erg leuk in je woonkamer of zelfs als accessoire in je kamer met een kussen erop.
Deze stoelen gaan echt lang mee! Langer dan ik dacht, ik had ze eigenlijk gekocht als leuk voorwerp in de kamer en nu al lang geluk mee!
Ik zie deze stoelen op veel sites, dus ik vond het lastig om te kiezen waar ik ze zou bestellen. Uiteindelijk dus hier en ik zou het zeker aanraden! Levering was spoedig, stoelen kwamen mooi verpakt en nu staan deze mooi in mijn kamer.
Heb erg lang gezocht naar deze stoelen (ben kieskeurig) en toen via deze site besteld. Ze zijn super.
Blij mee! En mijn kat vind het ook geweldig
Heel erg blij mee, zeker een aanrader!
Onwijs mooie stoelen. Een van de poten was niet mooi afgewerkt, dus ik kreeg meteen een nieuwe! Zelfs voor zoiets kleins is er goede service.
Good quality for sure and very nice chairs.
I've ordered small stuff before on this website like accessories. And now these chairs. First I ordered one to test it out and I fell in love haha. Now I have four of these in my house.
Very happy! I don't often order stuff online and especially not furniture. I'm a little sceptic. But these were great! Delivery went fast and I got them in good state.
Fijne stoelen en levering. Ik was eerst bang of ze wel goed aan zouden komen, maar het zag er tiptop uit! Heel erg blij mee.
Heel mooi item en een goede kleur. De kleur valt zelf namelijk niet erg op, maar de stoel in het algemeen wel. Zeker ook met het hout van de poten is het een combinatie van twee stijlen.
Echt hele fijne stoelen. Zelf heb ik er nu 4 aan de eettafel staan. Het is een top item voor in huis, je kunt er namelijk van alles mee. Je kunt er zelf een kussentje of kleedje opleggen om je eigen stijl eraan te geven!
Ik heb twee van deze stoelen besteld en ze zijn erg mooi. Past echt overal bij.
Heel erg blij met de stoelen. Ik heb er 4 besteld, alle 4 in goede staat!
Super mooie stoelen! De levering was snel en ze zagen er precies zo uit als op de foto's.
Stoelen werden een dag later toch geleverd en we zijn heel tevreden over de kwaliteit. Ze zien er uit zoals we verwacht hadden.
Wij hebben onlangs 6 witte DSW eetkamerstoelen besteld en genieten er enorm van. Snelle levering. Er ontbraken 4 zwarte dopjes voor op de schroeven. Dus misschien een tip om die apart in zakjes te leveren. Voordeel van de replica's is dat ze hoger zijn dan de originele die veel te laag zijn voor aan de gem. tafel. Ze hebben de look van mijn living enorm veranderd. Ook hygiënisch als je kinderen hebt. De vormgeving zorgt ervoor dat ik als rugpatiënt aangenaam zit. Ik zou elke kamer thuis wel willen vullen met Eames stoelen! Designchairs24 is een aanrader. Ik heb de site al aan meerdere personen aanbevolen. Ik ben fan!
De stoel was zoals hij geleverd moest worden. Netjes ingepakt en op de goede aangegeven tijdstip afgeleverd.
The DSW chairs are good quality: they are stable and looking very good. I ordered the chairs on Sunday and the next Tuesday, they arrived in Belgium. You can easily track them and follow your package online. I don't regret my purchase. Now I hope the chairs will last a long time.
Geen probleem met levering. Mooie stoelen alleen één foutje op 1 van de poten ontbreekt wat verf.
Erg mooie Eames DSW stoelen topdesign en degelijke kwaliteit. Zeer makkelijk te monteren. Sterke prijs/kwaliteit aan een factie van de prijs van een originele Eames. Enig minpunt; wel lang moeten wachten de stoelen zijn zondag besteld geweest en pas donderdag aangekomen, belofte van levering dag na bestelling is niet ingelast geweest.
Last year we've bought 4 chairs Charles DSW. Since we find them very comfortable we ordered 2 extra of them. The lovely flashy cushions going very well with our modern house. Our 2 little children often drop some food on the chairs but you can clean them easily. Both orders were delivered within 2 or 3 days!!!
Na wat problemen met betalen via de website werd via mail een aparte link verstuurd. Op die manier lukte het wel om te betalen en de volgende dag werden mijn stoelen al geleverd.
Razendsnelle levering en prachtige stoelen! Ben heel blij met mijn Eames chairs.
We ordered the Eames DSW White chairs without any trouble. The ordering process was quick and easy to do. The chairs arrived very quickly - within two days, like it said in my confirmation mail. A minor detail is that I didn't get an email with the tracking code for the chairs, so at first I wan't sure they would arrive at the given time. However, the customer service of DesignerChairs24 helped me very quickly when I emailed them about it, provided me the tracking code, and confirmed that the chairs would arrive at the right day. We're very pleased with our experience with DesignerChairs24. The chairs were easy to assemble, you get some instructions with it. They look great, sit great, all in all we had a great experience with this site and will definitely buy again!
Vier Eames DSW stoelen gekocht, stoelen binnengekregen en zijn van erg mooie kwaliteit! Ik heb al eerder besteld bij Designstoel24, toen en nu, erg goede service!
Together with friens we ordered 20 DSW chairs. We got them within 3 days, they all looked perfect, and were easy to assemble. After about half a year I discovered a barely visible crack in one of the seatbacks. We checked all the chairs, but it was only this one. So I wrote an e-mail with some pics, and the same day I got a reply that this was certainly not how it supposed to be and a new back was shipped out to me right away. This is how you expect service to be. Even I had a faulty chair, based on how much we use them, and our friends, I am Impressed by the quality and value for money. Combined with the speed of delivery and provided service, I can recommend Designerchairs24 very much.
Heel tevreden met de stoelen en de snelle vlotte levering. Aanrader!
Correct geleverd. De stoel voldoet volledig aan de verwachtingen.
Heel mooie stoelen en Snelle levering
Snelle levering! Zeer mooie stoelen!
I was a little hesitant ordering a replica DSW chair. Many Places offer them, but many have really bad reviews concerning delivery times and service. I am glad to report that had no problems whatsoever. Delivery was quick and the service is great as well (One chair base arrived with a small scratch despite very careful packaging, I got offered a replacement base immediately). The chairs itself are also very nice. The only notable difference to the Vitra ones is the use of silver screws instead of black ones.
I ordered four DSW chairs and they were delivered 1,5 days later. Quality seems pretty good.
I ordered 2 DSW chairs on friday and on monday they already arrived in perfect state. It was really easy to order and pay and would recommend Designerchair24 to anyone. :)
de levering is snel en vlot verlopen, veilig ingepakt. Ik ben zeer tevreden met de aankoop. Het zijn mooie Charles DSW stoelen zoals verwacht en gehoopt. Nu afwachten hoe duurzaam en kwaliteitsvol deze stoelen zijn. Maar de eerste indruk is positief! Bedankt!!
Tevreden over de snelle levering en de mooie kwaliteit stoel! Was keurig verpakt om beschadigingen tegen te gaan.
Goed gegaan. Mooie stoelen! Alleen je moet niet te dicht bij 21.00 bestellen als je het de volgende dag in huis wilt hebben. Het duurde een dagje langer. Maar de stoelen waren supergoed verpakt!
I ordered a white DSW chair, wich I was in love with since several years. The reproductions are made of a very good material and the looks are great also. I'm still in love after receiving. It came well packed in a big box as a great Christmas gift for me, and it took just 10 minutes for my husband to put the chair together. With my next bonus, I'll order some more!
We ordered the eames white chairs (dsw). Super fast delivery! Great chairs!
Wij hebben geprofiteerd van een kortingsactie en 6 witte DSW stoelen besteld. Ik snapte de actie niet helemaal goed en kreeg meteen ondersteuning via facebook chat. Vlot besteld en 2 weken later waren onze stoelen er. Ze zien er heel goed uit en we zijn er heel erg blij mee. Als we meer stoelen nodig hebben, bestellen we opnieuw bij Designerchairs.
Stoelen werden een dag later toch geleverd en we zijn heel tevreden over de kwaliteit. Ze zien er uit zoals we verwacht hadden.
Orville furniture
Dining chair WOOD White
Information
Wood White
The most popular dining chair!The Wood's modern design makes it difficult to believe that its original design is over 60 years old! The Wood is a mid century design classic with its origin in 1948. Since then, this chair has become an icon in many interiors and today, it is more popular than ever!
Mix & Match with color options
The Wood is available in many different colors. You can choose for instance to go for a sleek white look, to add accents in black, or to go your own way , by mixing multiple colors. The series consists of various models, there are models with and without armrest, and you can choose between different types of bases. The Wood is available with a wooden frame,Ironk wooden frame, stainless steel frame, blac...
Specifications
| | |
| --- | --- |
| Materials | Polypropylene, Maple wood |
| Dimensions (WxDxH) | 47 x 53 x 83 cm |
| Back height | 83 cm |
| Seat height | 44 cm |
| Warranty | 2 years |
Why order with us?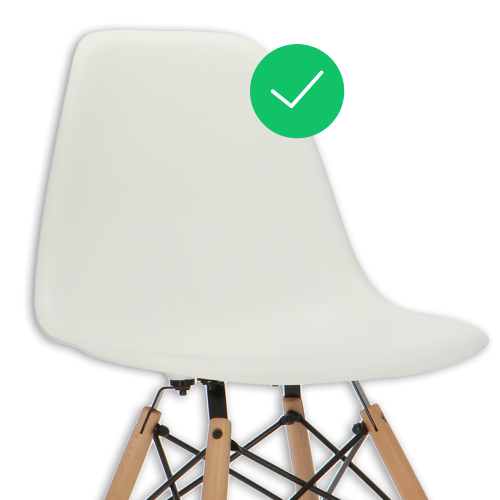 Special developed UV coating so that the seat will not discolor

Extra firm frame, carry weight up to 130 KG

Extra thick seat for more comfort, strength and long-term use

Perfect fit for commercial purposes or offices (meeting rooms, waiting rooms, public places or shops)

2 year full warranty

14-day money-back guarantee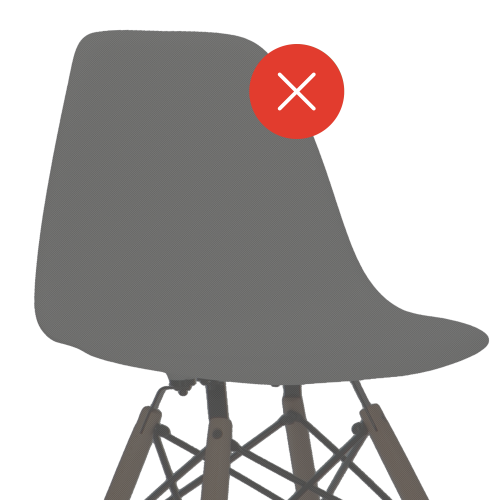 No UV coating, seats discolor

Low quality finished frame, low carry weight

Thin seat tears easily in usage

Complex assembly, frame needs to be build up

1 year limited warranty