Blij met de stoel. Gister besteld en snel geleverd.
Great chair. I love how the colour is so simple but the chair in generous is so unique. I love it.
Ik heb deze stoel zolang in mijn winkelmandje gehad, maar nooit besteld. En nu dan toch! Zo blij mee!! Zeker een aanrader, dus niet zo lang twijfelen als ik ;)
Grappig dat deze stoel in zoveel kleuren te verkrijgen is! Voor ieder wat wils.
Ik had deze eerst in het rood besteld, maar het beviel me niet helemaal. Toen geruild voor wit, wat erg gemakkelijk ging en ik ben er nu onwijs tevreden mee. Wit past overal bij en de vorm is uniek, dus een leuk item voor in de woon- of slaapkamer
Erg blij met deze stoel! Vind het een super leuke vorm en wit is natuurlijk altijd goed.
Fijn dat er geen verzendkosten bij komen. Vaak is dat wel zo, dus dat is een pluspunt.
Love this chair! It has a very smooth look in real life. I don't spend a lot of money so for me this was sort of an expensive thing, but I have no regrets.
Ik ga hier zeker vaker bestellen!
Geweldige stoelen. Dit is toch top, gewoon wit en dan zo'n leuning. Ben er helemaal blij mee.
De werknemers willen je echt helpen. Dat is zo fijn. Je kunt zoveel vragen stellen als je wilt en ze zijn oprecht een oplossing aan het bedenken. super.
I love this chair. It's a nice colour and it's beautiful with my other furniture.
Ik heb gemerkt dat deze stoel erg populair is, want hij was out of stock. Vaak duurt dat lang bij websites, maar deze was zo weer verkrijgbaar! Snelle service dus.
Ik wilde deze stoel ruilen voor een andere kleur en dat ging zo makkelijk. Ik dacht dat het een hele klus zou zijn, maar d service is geweldig.
Ik koop niet zomaar een stoel, dus ik wilde zeker weten of de kwaliteit goed was en of de kleur is zoals op de foto. De enige manier om daar achter te komen is om deze te bestellen. Gedaan en super blij mee. Alles is perfect.
I never write reviews but this time I'm so happy with this I thought let's post something. First I asked Bryan some questions (he's in your screen when you want to order something). It gave me a better look and a better feeling because he knew all about this chair. Very happy now it's here.
Veel soorten gezien op deze site en deze sprong er voor mij uit. Gister geleverd en super blij mee
Wauw, deze stoel staat zo leuk in mijn woonkamer!
De stoel is erg mooi geleverd. Niks op aan te merken.
Ik heb deze gekregen voor mijn verjaardag! Ik dacht eerst: huh? Maar wat een leuk en orgineel cadeau! Ik lees hier meer reacties over dit als cadeau en dat is zeker een aanrader!
Gekocht in de uitverkoop. Vind het namelijk veel geld voor een stoel. Maar nu hij al een tijdje thuis staat gaat ie zo lang mee! Het geld is het waard.
Heel leuk te combineren met kleurijke accesoires. Ook snelee levering en een goede kwaliteit. Blij mee!
Zo blij mee! Ik wist niet zeker of deze mooi zou staan in mijn kamer, maar heb het gokje toch gewaagd. En wat ben ik blij!
Ik heb deze thuis staan en ik krijg er heel veel complimenten over. Zeker een aanrader ook! Super goede kwaliteit en via deze website erg snelle levering. Niks op aan te merken.
Echt heel leuk als cadeau. Lekker orgineel en het kan eigenlijk niet mis zijn!
Staat op mijn kantoor en thuis! Allebei in een hele andere omgeving en stijl, maar past perfect!
Goed te combineren met leuke kussens!
TIP: Deze stoel heb ik gekocht voor mijn vrouw haar verjaardag. Ze was erg blij.
Such a nice chair. I love the way it's curved. Very nice with other chairs
Heb deze via een vriendin gezien en meteen besteld. Nog steeds erg blij mee!
Lekker simpel en stijlvol. Super leuk
Door het leuke plaatje met die hond op de stoel heb ik deze besteld. En nu, super blij mee. Ookal is de hond niet mee verstuurd ;)
Ookal zijn ze in zoveel kleuren, de witte blijft het leukst.
Hele goede service en super leuke stoelen!
Heel erg fijn dat er zoveel keus is in kleuren en zelfs de poten kunnen een andere kleur. Lekker mixen en matchen!
Super blij mee. Lijkt op de andere witte stoel die hier te koop is, maar vind deze toch iets leuker vanwwege de vorming in de leuning.
I've ordered these before on a different website and I been sending them back for like 3 times. I stopped but I think these chairs are so cute I tried one last time. But now on this website. I'm so happy.. The delivery came and I opened the box and there were the chairs how I suspected them.
Ik twijfelde of de webiste een goede was. Toch besteld en de levering was super! Geen schrammetje te zien en de stoelen gaan erg lang mee.
Gekocht voor mijn dochter en ze was er super blij mee. En ze is best kieskeurig, dus onwijs blij met deze aankoop.
Hoe leuk is deze! Ik heb 'm gekocht voor bij mijn bureau. Staat suuuper leuk!
Ge-wel-dig. Ik hou echt van meubels die net ff anders zijn dan normaal.
De leuningen zijn heel fijn. Het is erg comfortabel en het ziet er leuk uit.
Super leuk om te combineren met de DSW stoel!
Ik heb lang getwijfeld of ik zou bestellen bij Designerchairs24, zou het wel betrouwbaar zijn? Uiteindelijk toch de knop doorgehakt en 4 namaak Charles Eames DAW kuipstoeltjes gekocht. We werden niet teleurgesteld! Wat een snelle service: dinsdagavond besteld en donderdag al bezorgd! Ook had ik bijpassende kussentjes besteld, alleen deze waren niet op voorraad. Toen ik daarover een e-mail stuurde kreeg ik vrijwel direct een antwoord, dat de voorraad inmiddels was aangevuld. De stoelen zitten lekker en het staat prachtig. Ook gemakkelijk te monteren (onderstel moet je er zelf onder schroeven. Natuurlijk is de kwaliteit van met name het kunststof niet hetzelfde als het origineel, maar de prijs-kwaliteitverhouding van deze namaak Eames is prima.
We ordered DSW & DAW chairs and are very happy with the service. We had some protective caps that were not fitting on the srews & received lots of spare ones immediately after we notified the customer service. Top service & chairs!
Excellent service, my furniture fmgit delivered one day later! I seriously could not believe it, but is was true. Products made out of the best materials. Really astonished by this webshop, thank you so so much for my 8 daw eames chairs!
Snelle servies. Goede stoel. Kan dit product aanraden.
Eames
Dining armchair WOOD White
Information
Eames DAW White
The Eames DAW's modern design makes it difficult to believe that its original design is over 60 years old! The Eames DAW is a mid century design classic with its origin in 1948. Since then, this chair has become an icon in many interiors and today, it is more popular than ever!
Mix & Match with color options
The Eames DAW is available in many different colors. You can for instance choose to go for a sleek white look, to add accents in black, or to go your own way completely by mixing chairs. The Eames series consists of various models, there are models with and without armrest, and you can choose between different types of bases. The Eames DAW is available with a wooden frame, dark wooden frame, stainless steel frame, black...
Specifications
| | |
| --- | --- |
| Materials | Polypropylene, Maple wood |
| Dimensions (WxDxH) | 63 x 60 x 83 cm |
| Armrest height | 70 cm |
| Armrest length | 33 cm |
| Back height | 83 cm |
Why order with us?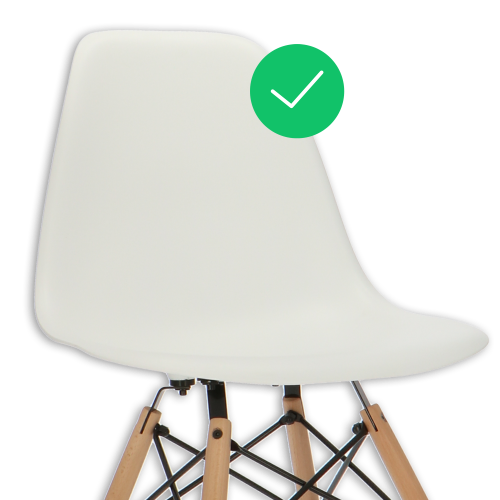 Special developed UV coating so that the seat will not discolor

Extra firm frame, carry weight up to 130 KG

Extra thick seat for more comfort, strength and long-term use

Perfect fit for commercial purposes or offices (meeting rooms, waiting rooms, public places or shops)

2 year full warranty

14-day money-back guarantee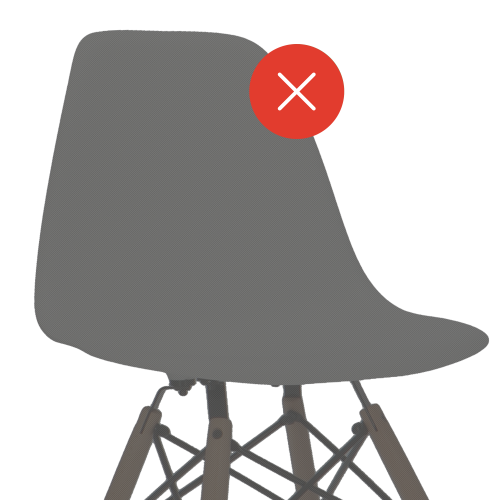 No UV coating, seats discolor

Low quality finished frame, low carry weight

Thin seat tears easily in usage

Complex assembly, frame needs to be build up

1 year limited warranty