Payment methods
Payment after delivery
Would you like to pay after you've received your order? Then this is the perfect payment method for you. You can try the products out for up 14 days, before you have to pay the invoice. There is an additional service charge of €9.95.
Paypal
Simply said, PayPal is an online bank account. To use PayPal you link your regular bank account to your PayPal account. That way you can just make payments online and the money will just be transferred. By using your e-mail address you can simply log in and make a payment. You can also use PayPal by transferring a certain amount and use that to make a payment. Every payment made with PayPal is protected. So if you do not get what you paid for, you can always get your money back.
Credit card
A credit card is a universal payment method. With a credit card you can make purchases, but don't pay for them yet. When making a purchase with a credit card, you are actually lending money from your bank, and paying all lend money back at the end of every month. Barcelonachairshop.com accepts all creditcard from Visa, Mastercard, American Express and Maestro. By using a SSL-secured server your payment will always be save.
Sofort Überweisung
Sofort is a payment method primarily used in Germany, but also available in 7 other European countries. Sofort is based on the concept of a bank transfer. In contrast with a regular transfer, the consumer only has to verify the payment, all other details are automatically filled out. This eliminates any human error and makes Sofort simple, fast and secure.
Giropay
Giropay is a payment method for residents of Germany. Using this payment method you can make your payment in the secure and familiar environment of your own bank. By just filling in some information and hitting send, you can make payments. Not only is this payment method quick and easy, it is also very secure. Because the payment takes place in the secured environment of your own bank you use make use of their secured server the complete your payments.
iDEAL
iDEAL is an online payment option used in the Netherlands. With this payment option you can make save and easy online purchases. Using iDEAL, you can make payments in the security and save environment of your own bank. By creating a digital link to your bank and its payment environment you pay in a environment that is familiar and easy to use. If you are affiliated to ABN AMRO, ASN Bank, Friesland Bank, ING, Knab, Rabobank, SNS Bank, SNS Regio Bank or the Triodos Bank, you can make online payments using iDEAL.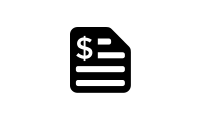 Invoice
payment-invoice-text